Why Discover Howard City and Montcalm County is the topic for episode 29
Talking with local businesses on why people should discover Montcalm County. First visit was the Edgerton Giftery.  Owned by Sherrie Ogren,  "My goal in business is to help other entrepreneurs to build their business in a small business group setting. Building our small-town community and telling everyone's story. It's so exciting to learn about each other and help one another grow! It has been awesome growing with wonderful artists, consignors, vendors, hobbyists and LLC's." Located at 127 East Edgerton Street, Howard City, MI  Visit them at
https://www.edgertongiftery.com/
Jean's Pizza Cafe has over a thirty year history in Howard City.  Jean's family originally started the business and today it is back in the family. Located at 118 E. Edgerton, Howard City, MI, United States Follow them on Facebook 
https://www.facebook.com/profile.php?id=100087756437530
Located in the Howard City Bowling Alley, Andrea's Street Eats is the new restaurant located at 118 E. Edgerton, Howard City, MI. Follow at 
https://www.facebook.com/profile.php?id=100083342770604
Caught up with Liberty at Neighbors and Company located at 204 E Edgerton St, Howard City, MI. Follow them at 
https://www.facebook.com/profile.php?id=100089494958861
Rounding out comments from business leaders is Tom from 210 Music Row located at 210 E Edgerton St, Howard City, MI
https://www.facebook.com/210-Music-Row-Inc-1421237171232682
Discover Montcalm Podcast is produced by Duane Weed.  He started DW Video & Multimedia 
https://www.dwvideo.com
  in 1984. Today he runs the business and teaches Digital Arts at the Montcalm Area Career Center. Connect with Discover Montcalm to tell and share your story. Call 231-250-9624 to learn more and schedule an appointment.
Check out all our past episodes 
https://discovermontcalmpodcast.com/category/podcast/
.
Feature Your Business on Discover Montcalm Learn about upcoming shows, how you can be a guest on the show and maybe even a sponsor. Contact Duane for more information. Call Duane 231-250-9624
Follow and subscribe FACEBOOK,
https://www.facebook.com/discovermontcalmpodcast
INSTAGRAM,
https://www.instagram.com/discovermontcalmpodcast
or at
https://discovermontcalmpodcast.com/
Discover Montcalm Audio Podcast
Check out the podcast all about Montcalm County Michigan.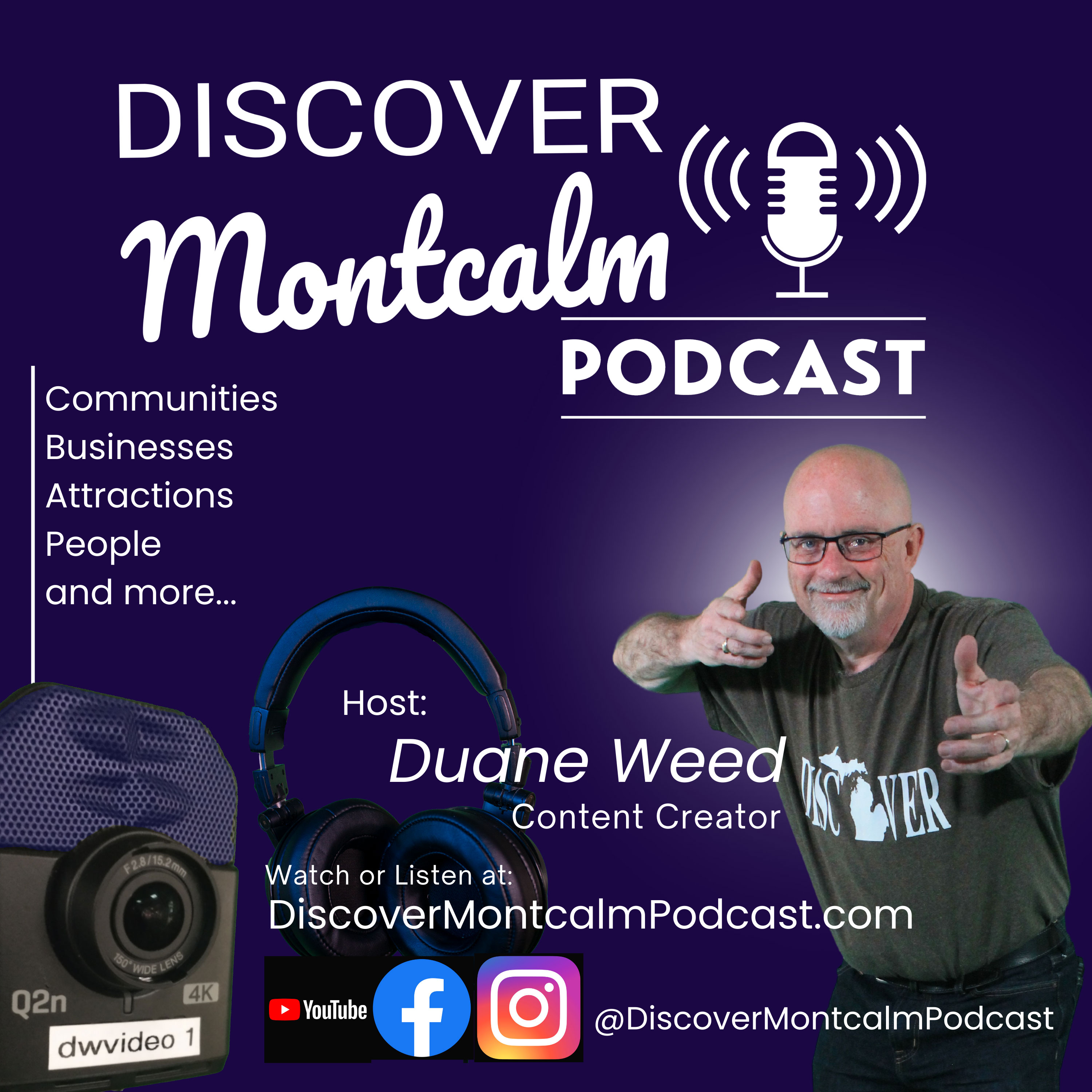 Discover Montcalm Podcast
Welcome to the Discover Montcalm Podcast where we are going to take a look at the communities, the businesses, the attractions and the people that make up Montcalm County. If it happens in Montcalm County, we are here to tell and share the story. Contact Duane at 231-250-9624.
Feature Your Business on Discover Montcalm
Learn about upcoming shows, how you can be a guest on the show and maybe even a sponsor. Contact Duane for more information.   Call Duane
231-250-9624
Podcast: Play in new window | Download
Subscribe: Apple Podcasts | Google Podcasts | Android | RSS