West Michigan Technology and Design Solutions sponsors Discover Montcalm Podcast episode 34
West michigan Technology and Design Solutions owner JR Muller shares with Discover Montcalm why WMTDS supports local.
When JR Muller was asked why he supports the Discover Montcalm Podcast project here is his response: "My company, West Michigan Technology and Design Solutions, we do a lot of website support for businesses all throughout West Michigan, Montcalm County included. I've always just been a strong networker connected to the Grand Rapids area but realize it is important for us small business guys to kind of stick together, so helping the Discover Montcalm Podcast helps local and increases my reach." 
Business owners have a lot of technology needs to consider when running their business. From IT support to website hosting and development, backups, security, firewalls, and general IT consulting, it can be difficult to know where to turn for the best solutions. 
WMTDS offers a comprehensive suite of services to help business owners succeed. 1) By providing assistance with everything from setting up networks to troubleshooting hardware and software issues.  2) Offer website hosting and development services, so business owners can create a professional website that will help them reach their target audience. 3) Provide backup services, security solutions, firewalls, and general IT consulting. 
WMTDS also offers competitive pricing and excellent customer service. Their team is available 24/7 to answer any questions or provide assistance, and they offer flexible payment plans to meet the needs of any business. Discover Montcalm, host and producer at DW Video uses WMTDS for their hosting needs on all the websites Duane produces.   Contact JR at  https://wmtds.com/
Discover Montcalm Podcast is produced by Duane Weed.  He started DW Video & Multimedia https://www.dwvideo.com in 1984. Today he runs the business and teaches Digital Arts at the Montcalm Area Career Center. Connect with Discover Montcalm to tell and share your story. Call 231-250-9624 to learn more and schedule an appointment. Check out all our past episodes https://discovermontcalmpodcast.com/category/podcast/ .
Feature Your Business on Discover Montcalm Learn about upcoming shows, how you can be a guest on the show and maybe even a sponsor. Contact Duane for more information. Call Duane 231-250-9624 Follow and subscribe
Discover Montcalm Audio Podcast
Check out the podcast all about Montcalm County Michigan.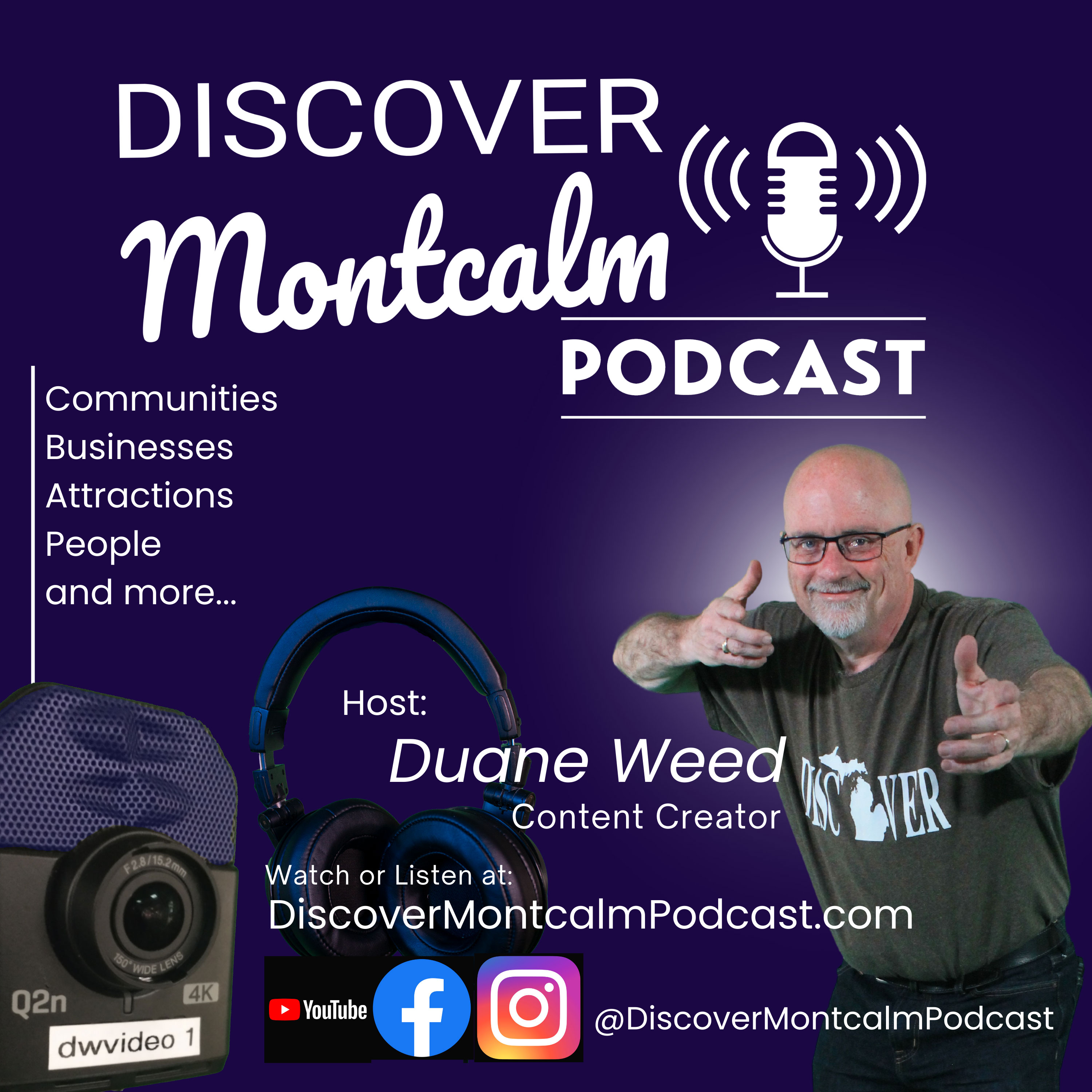 Discover Montcalm Podcast
Welcome to the Discover Montcalm Podcast where we are going to take a look at the communities, the businesses, the attractions and the people that make up Montcalm County. If it happens in Montcalm County, we are here to tell and share the story. Contact Duane at 231-250-9624.
Feature Your Business on Discover Montcalm
Learn about upcoming shows, how you can be a guest on the show and maybe even a sponsor. Contact Duane for more information.   Call Duane
231-250-9624
Podcast: Play in new window | Download
Subscribe: Apple Podcasts | Google Podcasts | Android | RSS