Welcomne to my Basement the Jus Jammin Guys – episode 38
The Jus Jammin Guys from the Welcome to My Basement Facebook page record in the Howard City area. 
"Jus Jammin" is a term that's often used to describe a musical jam session.  The "Welcome to my Basement Jus Jammin" Facebook page is a page for about "The Jus Jammin Guys" that are music lovers that share their love of music and connecting with others who enjoy classic rock and blues.. The page includes a number of videos performed in the founder, Duane Weed's basement. The Jus Jammin Guy perform music they grew up to, music that has influenced their lives and musical taste.
The guys all grew up with rock and roll music from the 1960's, 70s and 80's.  Back when rock and roll was a cultural phenomenon that gave rise to some of the most iconic and influential musicians of all time. Many people who grew up during this era claim rock and roll music as their own, as it represented a rebellious spirit and a sense of freedom that defined the counterculture of the time. From the Beatles and the Rolling Stones to Led Zeppelin and CCR, these bands pushed the boundaries of what was considered acceptable in popular music, and their music reflected the social and political changes of the era. Today that music continues to inspire and influence new generations of musicians and people all over the world.
The West Michigan music scene is a vibrant and diverse community that encompasses a wide range of genres and styles. From indie rock and folk to hip-hop and electronic music, there is a wealth of talent and creativity to be found in this region.  Duane and The Jus Jammin guys enjoy sharing their music from the Welcome to My Basement facebook page.  Using social media to share with friends, family and people that enjoy the classic rock and blues the guys perform.
The Howard City and Montcalm County music scene is a small but tight-knit community that is passionate about live music and local talent. While the scene is not as large or well-known as other music scenes in Michigan, it has a dedicated group of musicians, fans, and venues that work together to create a supportive and collaborative environment. From open mic nights at local bars to community festivals and concerts, there are plenty of opportunities for musicians to perform and connect with audiences. The scene also benefits from the natural beauty and outdoor recreation opportunities in Montcalm County, which provide a unique backdrop for live music events. 
The Jus Jammin guys record most of their videos in a Howard City basement, Duane's basement to be exact.  Duane, a producer/director and owner of DW Video, captures the videos with three to six cameras.  Captures 12 tracks of audio that is then mixed down and added to the multi camera edit. 
The band consists of: Mike Nulph is the bass player, Bill VanOss is on guitar along with Dan Salas on guitar and keyboards and Duane on drums.  Danny also does the mix down of all the tracks at Vida Recording Studio. 
The power of music today remains as strong as ever, with its ability to inspire, uplift, and bring people together in a way that few other things can.  Follow the Jus Jammin Guys at https://www.facebook.com/WelcomeToMyBasementJusJammin  to watch all their videos that pay tribute to the many people and groups that have inspired them. 
Discover Montcalm Podcast is produced by Duane Weed.  He started DW Video & Multimedia https://www.dwvideo.com in 1984. Today he runs the business and teaches Digital Arts at the Montcalm Area Career Center. Connect with Discover Montcalm to tell and share your story. Call 231-250-9624 to learn more and schedule an appointment. Check out all our past episodes https://discovermontcalmpodcast.com/category/podcast/ .
Feature Your Business on Discover Montcalm Learn about upcoming shows, how you can be a guest on the show and maybe even a sponsor. Contact Duane for more information. Call Duane 231-250-9624 Follow and subscribe
Discover Montcalm Audio Podcast
Check out the podcast all about Montcalm County Michigan.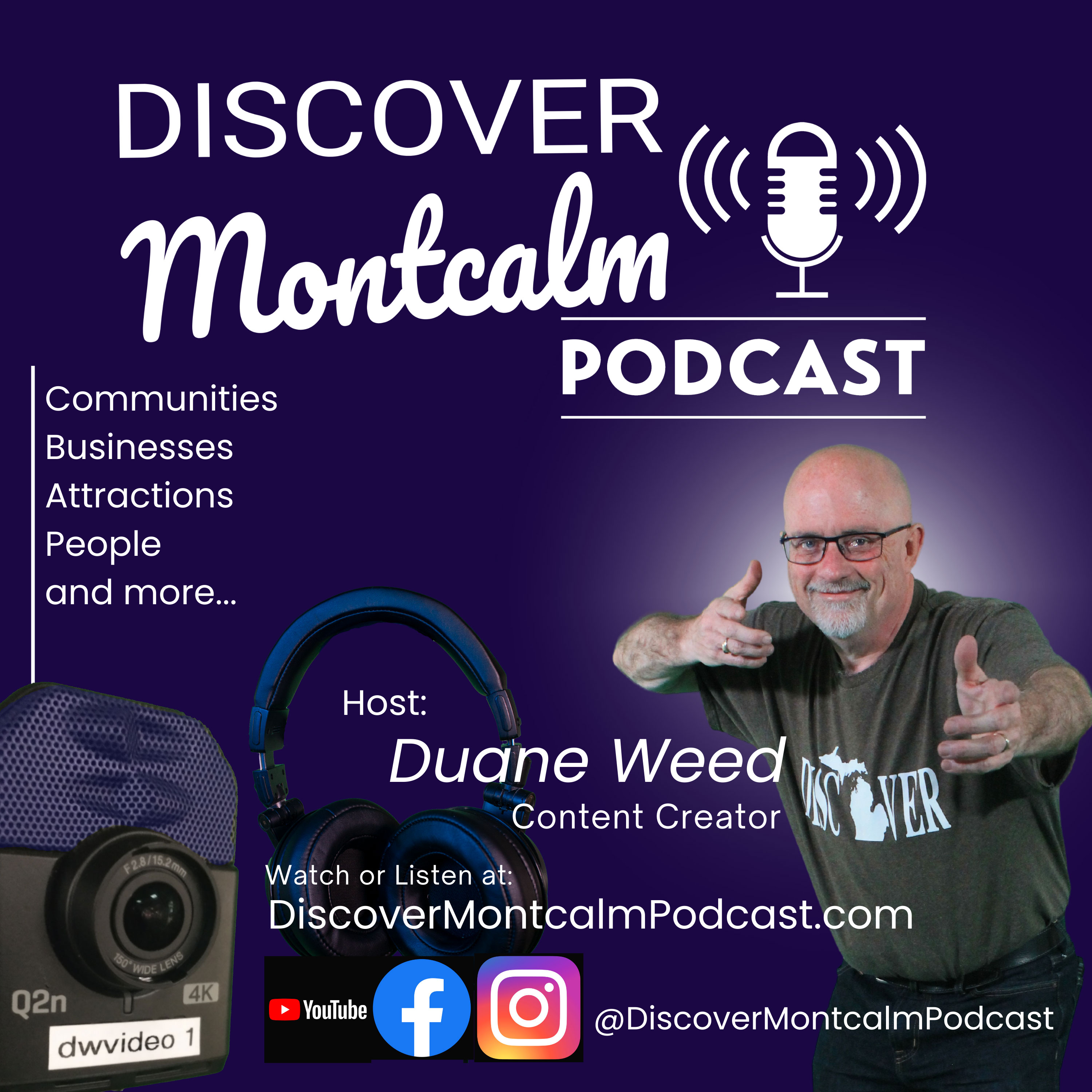 Discover Montcalm Podcast
Welcome to the Discover Montcalm Podcast where we are going to take a look at the communities, the businesses, the attractions and the people that make up Montcalm County. If it happens in Montcalm County, we are here to tell and share the story. Contact Duane at 231-250-9624.
Feature Your Business on Discover Montcalm
Learn about upcoming shows, how you can be a guest on the show and maybe even a sponsor. Contact Duane for more information.   Call Duane
231-250-9624
Podcast: Play in new window | Download
Subscribe: Apple Podcasts | Google Podcasts | Android | RSS