Discover Montcalm Business, Industry, Schools, Organizations, nonprofits and tourist attractions – episode 26
Discover Montcalm Business, Industry, Schools, Organizations, nonprofits and tourist attractions.
Driving through Montcalm County there is open fields and farmland. Agriculture is huge in Montcalm County and Duane would like to talk to the people behind the farms, behind the crops, behind the livestock, to know the people that are here every day waking up early going to bed late to make sure that there's food on people's table.
Reaching out to tell and share business, industry, organizations, schools, healthcare, retail, and restaurants stories. There are businesses out there that make, made in Montcalm County products. So cool and we are sure of interest to the residents of our county.
Along with the business community our area has parks and recreation. A large number of lakes and streams and public access lands for people to enjoy. There are trails that people can hike and bike and some that allow snowmobiles. Reaching out to the historians, village managers, township supervisors around the county to tell the stories of how our communities were built and shaped.
You can find Discover Montcalm on Google Podcast and iTunes as well as YouTube. Take the YouTube link and put the video on your web and social media sites to promote and market your business. Duane says it is a conversation, not an interrogation. It starts with talking with Duane about the questions and direction the podcast and story will go. Interviews are recorded at DW Video's studio in Howard City or at your location to provide a walking tour and more in depth look at your business.
Duane started DW Video & Multimedia https://www.dwvideo.com  in 1984. Today he runs the business and teaches Digital Arts at the Montcalm Area Career Center. Connect with Discover Montcalm to tell and share your story. Call 231-250-9624 to learn more and schedule an appointment. Check out all our past episodes https://www.discovermontcalmpodcast.com .
Discover Montcalm Audio Podcast
Check out the podcast all about Montcalm County Michigan.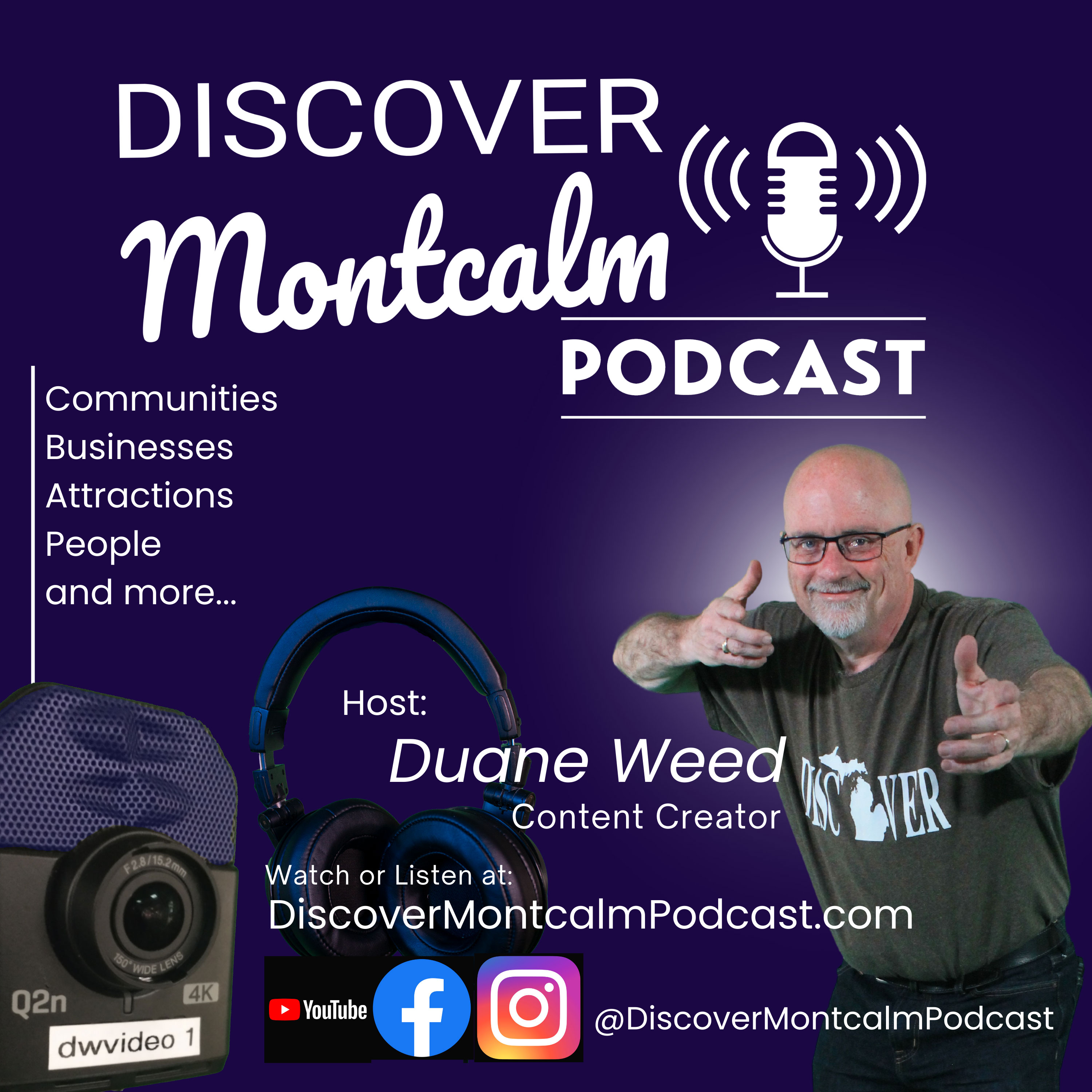 Discover Montcalm Podcast
Welcome to the Discover Montcalm Podcast where we are going to take a look at the communities, the businesses, the attractions and the people that make up Montcalm County. If it happens in Montcalm County, we are here to tell and share the story. Contact Duane at 231-250-9624.
Feature Your Business on Discover Montcalm
Learn about upcoming shows, how you can be a guest on the show and maybe even a sponsor. Contact Duane for more information.   Call Duane
231-250-9624
Podcast: Play in new window | Download
Subscribe: Apple Podcasts | Google Podcasts | Android | RSS