Discover Jason Teegardin 180 Designs and Kyle Hamlin Montcalm Area ISD Superintendent in Discover Montcalm's Podcast episode 27
Carson City, Michigan is the home of One Eighty Designs.a sign shop and premier vehicle wrap destination.  Jason Teegardin, founded 180 Designs in 2011.and continues to grow his business to serve not only Montcalm County, but Michigan as well.  Even traveling out of state when the job calls for it.  SOURCE https://www.oneeightydesigns.com/about-us 
Kyle Hamlin is the Superintendent of the Montcalm Area Intermediate School District starting on July 1, 2020   The Montcalm Area ISD serves the school districts of Carson City-Crystal, Central Montcalm, Greenville, Lakeview, Montabella, Tri County, and Vestaburg, public school academies and private schools, MAISD coordinates and delivers services and programs designed to improve education in Montcalm County.  SOURCE: https://www.maisd.com/administrative-services/superintendent/ 
Montcalm County is situated northeast of Grand Rapids, Michigan, and boasts a unique mix of agricultural expertise and manufacturing prowess. Combined with a talented workforce, more than 200 inland lakes and quaint, historic communities, it's not hard to see why people choose Montcalm County to live and do business.  SOURCE:
https://www.rightplace.org/regions/montcalm-county
Discover Montcalm Podcast is produced by Duane Weed.  He started DW Video & Multimedia https://www.dwvideo.com  in 1984. Today he runs the business and teaches Digital Arts at the Montcalm Area Career Center. Connect with Discover Montcalm to tell and share your story. Call 231-250-9624 to learn more and schedule an appointment. Check out all our past episodes https://www.discovermontcalmpodcast.com .
Discover Montcalm Audio Podcast
Check out the podcast all about Montcalm County Michigan.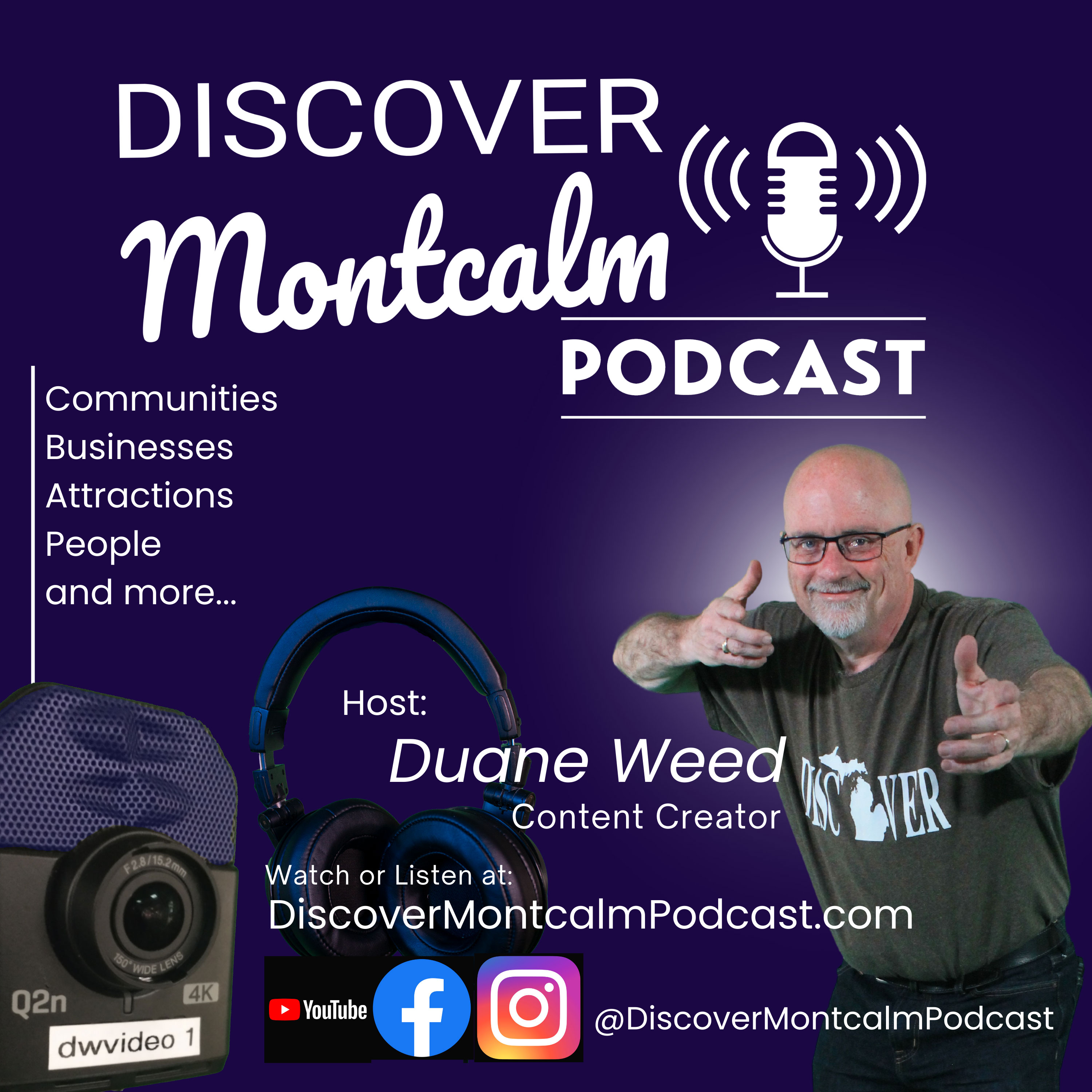 Discover Montcalm Podcast
Welcome to the Discover Montcalm Podcast where we are going to take a look at the communities, the businesses, the attractions and the people that make up Montcalm County. If it happens in Montcalm County, we are here to tell and share the story. Contact Duane at 231-250-9624.
Feature Your Business on Discover Montcalm
Learn about upcoming shows, how you can be a guest on the show and maybe even a sponsor. Contact Duane for more information.   Call Duane
231-250-9624
Podcast: Play in new window | Download
Subscribe: Apple Podcasts | Google Podcasts | Android | RSS